Sergiu Comissiona (1928-2005) was a Romanian-born conductor who emigrated to Israel in 1959. Clara Haskil contributed towards making him known in Western Europe. He made his debut in America in 1965 with the Philadelphia Orchestra. He was the music director of the Baltimore Symphony from 1969 to 1984 and brought an international standard to this second-tier orchestra.
In his autobiography, My Nine Lives, Leon Fleisher portrayed him: "Comissiona was a born performer. The theater lost a great talent when he became a conductor. He had the body of a dancer, moving around the podium with the balletic movements of a particularly animated cat. He was also a great mime, true competition for Marcel Marceau. He spoke English with a heavy Romanian accent, but he would act out his stories with every inch of his body: hands, lips, darting eyes, and veritably prehensile eyebrows. And what stories. He was an hysterically funny raconteur."
Fleisher, who was his assistant in Baltimore, spoke also of Comissiona as a musician: "He was also an extraordinary conductor. I don't want to be pejorative when I say that he was the best conductor of second-class music that I've ever known. He had his problems with Beethoven and Brahms; somehow those performances never quite reached the heights of others I've experienced. But in things other than the mainstream German repertoire, he could be revelatory. He was a fine technician who knew what he was about. And he invested all that energy and verve and talent in the Baltimore Symphony. They made their first recording. They went on their first European tour. And Sergiu kept insisting he wouldn't be happy until the orchestra, which performed at the Lyric Opera House, had a proper concert hall of its own." Sergiu Comissiona ultimately rose to the challenge – on September 16, 1982, a splendid 2500 seat concert hall was inaugurated. It bears the name of Joseph Meyerhoff, a wealthy Baltimorean businessman who financed it in large part.
In an interview he gave in 1987, Comissiona said without any fuss: "I am an American conductor, despite my accent. I love French music, German, Russian. I am very young in this respect; I am not ashamed of loving music."
Istomin gave at least twenty concerts with Sergiu Comissiona, always in perfect musical and human harmony. Like Fleisher, he greatly appreciated this man, who not only was full of humor, but was also knowledgeable and highly courteous. Comissiona always put his love for music before the interests of his career. For Istomin, this was the main reason why he was not offered more prestigious orchestras.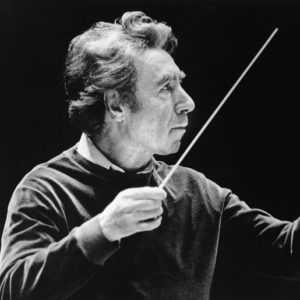 1969. Frederick (Maryland). Mozart, Concerto No. 24 K. 491. Baltimore Symphony.
March 14 & 16, 1974. Buffalo. Schumann, Concerto. Buffalo Philharmonic.
1974, August 2. Saratoga. Schumann, Concerto. Philadelphia Orchestra. Recorded concert.
1977, July 29. Temple University. Beethoven, Concerto No. 5. Pittsburgh Symphony.
1977, October 19. Baltimore Lyric Theater. Beethoven, Concerto No. 3. Baltimore Symphony.
1978, July 15. Temple University. Beethoven, Concerto No. 3. Pittsburgh Symphony.
1979, August 3. Temple University. Brahms, Concerto No. 2. Pittsburgh Symphony.
1980, September 13 & 14. Brahms, Concerto No. 2. Houston Symphony. Recorded concert.
Other information from the Baltimore Symphony and other orchestras is not available.                                          .
Brahms. Fourth Symphony, last movement. Orquesta Sinfónica RTVE, Sergiu Comissiona. (Subtitles in Spanish about the construction of the movement).