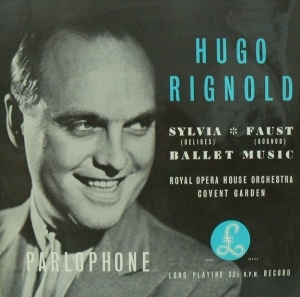 Istomin met Hugo Rignold on his first major tour of South Africa in the autumn of 1955. At that time, Rignold, who was born in 1905, was principal guest conductor of the Cape Town Orchestra, the largest orchestra on the African continent, and held this position until 1973, three years before his death.
A close friendship was born between the two men. Istomin thought that Rignold was a first-rate conductor who deserved to become musical director of one of the most prestigious orchestras in London. He found it scandalous that the English public snubbed him, under the pretext that he had started his career as a jazz violinist and big band leader. Ormandy had taken a similar path, but in America there were no such crippling prejudices. During WW II, he took advantage of his assignment as RAF squadron leader in the Middle East to conduct the Cairo Orchestra and the Palestine Orchestra (the future Israel Philharmonic).
After the war, Rignold conducted many ballets at Covent Garden, assuming the musical direction of the Royal Ballet from 1957 until 1960. His sense of rhythm and dance worked wonders, but it also helped to reinforce his reputation as a "light" musician. He was appointed musical director of two regional orchestras in Liverpool (1948-1955) and Birmingham (1960-1969), but was very rarely invited to conduct London's main orchestras. In his discography, which is rich in ballets and popular pieces, there is only one symphony, Dvořák's New World! Thanks go to Christopher Howell for his research on Rignold's career and discography (musicweb-international.com).
Istomin and Rignold enjoyed many dinners together, followed by impassioned discussions until the small hours of the morning. Istomin often stayed at Rignold's when he gave concerts in England, especially in 1961 when the Trio made its first appearances, spending two weeks in London. He was amazed by Rignold's passion for sports cars (he drove Aston Martins or Jaguars and competed in motor racing) – and women (he was married three times, twice to famous actresses)! He was also charmed by his daughter Jennifer, who was a dancer and an on-screen presenter for BBC Children's TV.
Cape Town Orchestra, City of Birmingham Symphony Orchestra: no accessible dates or programs.
Dvořák, Symphony No. 9 "New World'', first movement. London Philharmonic Orchestra, Hugo Rignold