Istomin's position on recording evolved over time. From his first concert with the New York Philharmonic he was aware of the additional strain that a live broadcast brought. But his feeling about discs was still very positive. Records had played a major role in his musical education, not only listening to pianists (especially Rubinstein, his idol in his youth), but also to singers – his parents were passionate opera lovers – or string players (he was crazy about Heifetz!). When asked by Gordon Aronhime in 1957 if he agreed with "the theory that modern recording techniques caused a lack of spontaneity for the sake of perfection achieved", Istomin replied with an emphatic 'No': "When you listen to the old records, if you divest them of the nostalgic memories they invoke, you will see they are almost unlistenable from both the musical and technical point of view of today."
A few years later, in a text written at Roger Dettmer's request and published in Chicago Saturday, Istomin clarified his thinking and acknowledged the important role which records held in musical life, even while he also pointed out some restrictions. Here is the complete article:
"Every audience I see in a concert hall anywhere in the world confirms one of my theories about recordings and their effect on that even larger audience – the people who listen to music on disks in their homes. From Austria to Australia I have learned that records intrigue and whet the interests of serious listeners. Everywhere, our country included, there is a group of collectors, musical adventurers we might call them, who buy recordings by artists who may not be well-known in the U.S.
As these collectors talk about these 'new' artists (the artist may not necessarily be 'new', merely unknown to concert halls in that part of the world), they help to create a demand which eventually brings the performer to local concert platforms. Then the artist must live up to the advance reputation his recordings have built.
Over the years I have heard two consistently divergent opinions on this subject – one, that recordings are always better than the same artist's concert performance; another, that recordings are not as good. In my opinion it is not the microphone which changes a performance, it is the artist himself who changes.
I do not believe that recordings can really perpetrate a musical hoax. Perhaps, in the case of a vocalist, there may be a question of volume – immense sound on a phonograph record and a light voice in a large house. But for instrumentalists, the interpretative or technical qualities tend to be the same in a recording studio or in a concert hall.
But every time an artist plays a work there are different circumstances. There is no single definitive performance. There is, whether before a microphone or on a stage, one performance at a given time and given place. Certainly it is always easier to give an all-encompassing performance of a work which is limited in its scope; the likelihood of change is considerably smaller. But a great work is like a heavenly body; you see only one side at a time. Your performance one day may reveal one side of it, and another day, another side.
Some works are musically 'phonogenic', easy to perform, easy to hear. Some works – and some artistic conceptions of them – are not at all 'phonogenic' in this musical sense. All this goes through an artist's mind when he plays.
When I play for recordings, I listen to the playbacks as if the speakers were microphones. Am I hearing a really faithful reproduction or reflection of how I feel about the work? In a concert performance there are sometimes minor blemishes that go by and are quickly overlooked. But in the recording studio they cannot be overlooked – in this respect the microphone is merciless.
Yet I have learned that the attempt to achieve that special sort of perfection before the microphone can sometimes make impositions on the spontaneity of the performance. I have learned, although I strive constantly for perfection in every performance, to be wary of excessive concern for perfection – a work can lose its spontaneity and become suave rather than searching.
Thus, in the recording studio, I can say: 'This is my chance to make this work sound exactly as I want- today'. I know that in days to come I may alternate between love and hate for that performance. For the artist, the microphone captures a moment of his own history – a particular performance at a particular time."
The difficult balance between spontaneity and perfection
The balance between perfection and spontaneity is a very tricky equation! Istomin realized its difficulty when he recorded trios with Casals or when he attended the recording sessions of the Beethoven Cello Sonatas with Casals and Serkin. Both great musicians allowed themselves much less freedom in the studio than on stage!
For Istomin, recording concertos was quite easy. The presence of the musicians and the conductor naturally led him to feel as though it were a live performance and to immediately give his best. In any case, the number of sessions was fixed in advance, and their cost was so high that it would have been out of the question to ask for an additional one. For the recordings with the Trio, the most delicate moment was the balance! Finding one that satisfied all three members of the Trio was difficult, as the three of them paid a great deal of attention to the color and presence of their instrument. Once they had agreed on the balance, things could move quite quickly, as long as Stern had had time prepare well. Listening and choosing the takes was rarely a problem, as the three musicians shared the same vision and the same demand for perfection.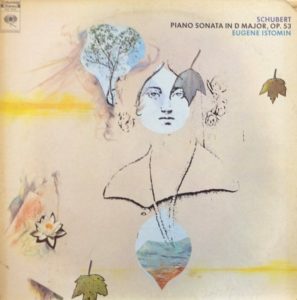 On the contrary, recording piano solo works was more stressful for Istomin – here he was faced by his own musical ideals, which were so difficult to achieve! He could be very impatient when his playing did not immediately reach the desired perfection. He regarded editing as a last resort and aimed for the perfect take of a complete piece. After several takes, he was afraid to lose spontaneity, so he preferred to stop and try another work. He would resume them with a new freshness in the next session. In the end, he was always reluctant to approve the release. For Schubert's Sonata in D, he asked for an extra session, whereas Kazdin, his artistic director and a perfectionist himself, felt that the recording was perfect. For Beethoven's Waldstein Sonata, a touchstone of his repertoire, he was even more difficult to please. He had recorded it in 1959 but did not approve its release (it would be published in 2015 in the Sony box and proved to be breathtaking). He tried again in 1965 but was not happy with the first session and cancelled the second one. In 1991, Istomin finally decided that it was time to record it, while he was still at the height of his powers, and admitted to being satisfied.
The disc perverts listening to music!
In the early 1960s, as a result of the Van Cliburn phenomenon, the record became an industry, and marketing prevailed over artistic considerations. Technical progress made it possible to edit the tapes extensively and allowed for shameless cheating, unlike the days of the 78 rpm, when it was impossible to cheat! For Istomin, the disc had become a commercial product, an illusion which distorted the very essence of music. The arrival of the Compact Disc reinforced this feeling and even made him nostalgic for the 78 rpm: "Now all the artists play the same way and  have the same sound. They are like fruits and vegetables which are now graded, sanitized, and tasteless. It is boring. At the concert, you don't hear the same thing and it may be disappointing, as the concert is real life. Listening to a CD is like making love virtually with a movie star, not with a living, breathing human being. The concert is an act of life. It's the same thing with a photograph. A photo and a person are very different. The problem is that for many music lovers the record is now the "message", in accordance with Marshall McLuhan. Many artists think like me, but there is nothing we can do. The older recordings had wrong notes and mistakes. Today such things are inconceivable, and we are not far from regretting it."
Beyond its artificial perfection, the record perverts our sense of listening by locking people into a unique conception of a work: "You go to the concert and hear Mr. Maazel or Mr. Bernstein conducting a Brahms symphony. At home, you have a Karajan record that you love and know by heart. Then the tempos and phrasing of Mr. Maazel and Mr. Bernstein will not suit you. You are going to listen negatively. You are stuck with your version, whereas this symphony can be played in a thousand different ways, which would be worth paying attention to. Everybody loses – both music lovers and musicians!"
Istomin's late recordings
For nearly twenty years, from 1970 to 1987, Istomin did not record any concerto or piano solo works, only a few trios and sonatas with Isaac Stern and Leonard Rose. Although in conflict with Columbia, his record company from the very beginning, he did not feel it necessary to to look for another one, considering that live music was his greatest satisfaction. He was aware that this could heavily damage his career. For the public and for concert organizers, a performer who no longer made new recordings gradually lost his notoriety and appeal. Even if his concerts were still rapturously received by the public, his image would fade, and he would no longer be in fashion. For many musicians, the end of their recording activity brought about the decline of their career as performers. Istomin was justifiably proud of having succeeded in overcoming this major obstacle. His engagements did not decrease, but he was invited much less often by the major orchestras and the most prestigious venues.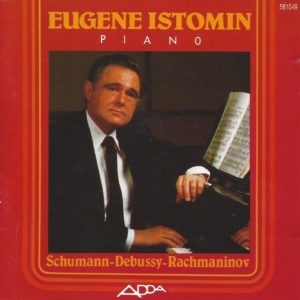 In 1987, Istomin began to think that "Despite its drawbacks, the record remains forever". That year, he was expanding his solo repertoire (Schumann's Sonata Opus 11, the Images by Debussy, and pieces by Rachmaninoff). He felt he had something very personal to say in these works and that it was his duty to leave a trace of how he interpreted them. It was out of the question for him to ask Sony, who had just bought Columbia, so he decided to produce the recording himself. He hired a sound engineer and recorded in a makeshift studio. On the advice of Jean-Bernard Pommier, he entrusted the rights to a small French firm, Adda, which would publish the record, but which made no effort towards promotion and distribution. Adda soon went bankrupt. The reviews were mixed, mainly because of the coupling, which was considered too disparate. Istomin was not willing to comply with the marketing rules, which prescribed that a record should feature only one composer – otherwise, music lovers would not be able to find it in the stores and the disc would not sell well.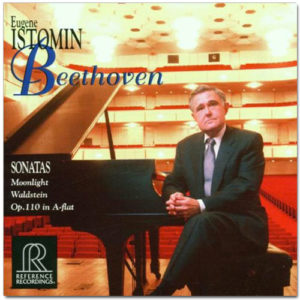 Four years later, he proceeded in the same way for a Beethoven program (Sonatas Nos. 14, 21 & 31) which he was currently performing all over the world. The recording, made in a better acoustical setting, was eventually issued in 1995. On the occasion of his 70th birthday, Reference Recordings asked Istomin to record the two Mozart concertos he played most often (No. 21 K. 467 and No. 24 K. 491) and to publish the Beethoven Sonatas at the same time. In 2000, willing to close the loop, Istomin decided to pay tribute to Paul Paray by recording his Fantaisie pour piano et orchestre. He was very grateful to Paray, who had generously supported him, and was shocked to see this great musician fall into oblivion. He booked the Budapest Symphony Orchestra for a full week, invited his friend and alumnus Jean-Bernard Pommier to conduct, and sent over his piano from Washington. They recorded not only the Fantaisie but also two other works by Paray, the Symphony No. 2 "Le Tréport" and the Symphonie d'archets, which were issued in a private edition.
Last but not least, another private recording must be mentioned: a recital given at the Théâtre des Champs-Elysées in November 1993 as a tribute to Casals for the 20th anniversary of his death. A large part is available on this site: Casals, Prelude; Bach, Toccata BWV 914; Mozart, Sonata K. 283; Medtner, Sonata Op. 22.
Istomin's recording legacy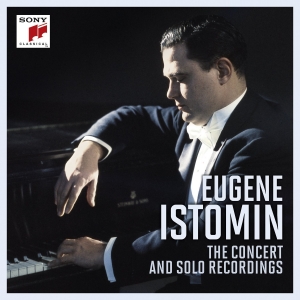 When David Oppenheim left Columbia in 1959, he unintentionally dealt his friend Eugene Istomin a severe blow! The inconsistency of his successors at the head of the Artists and Repertoire Department discouraged Istomin from recording any more. This resulted not only in long-term damage to his career, but also in the short and mid-term one, and even more regrettably to his repertoire. Between 1955 and 1959, Istomin broadened it considerably, tackling many new works which Columbia wanted him to record: the complete Chopin Nocturnes, Brahms' Intermezzi Op. 117, the Rachmaninoff Second Concerto and the Tchaikovsky Concerto No. 1. New plans were already scheduled for the complete Chopin Scherzos and Ballads, a Beethoven program, and some more Russian music. Others would follow, which would have naturally broadened his repertoire. However, as his concert schedule was so busy with the Trio's engagements in addition to his own concerts, he could not devote enough time to learning new works, especially for recitals. This ended up by damaging his playing. He missed the challenges Oppenheim presented, which had previously been a fantastic source of motivation.
One cannot help but feel disappointed that Istomin's discography is not larger, despite Sony's publication of his complete concerto and solo recordings in 2015. According to Gramophone, this 12 CD box is "an effective prompt not so much to re-evaluate Eugene Istomin as to grant him a status he was previously denied." Most of these recordings had not been available for more than 40 years. It was more detrimental to his career and for himself than he admitted. He had made a point of assuming the consequences of his artistic integrity and refusal to compromise. Sometimes he would say that the time would come when he would get the recognition he deserved, through records and videos. But he immediately added that it was not the main thing and that he did not live for that!
All his discography is of a very high level. Among his solo recordings reissued by Sony, the Rachmaninoff Concerto and the Sonatas by Beethoven and Schubert might be highlighted as the very peaks of his achievement. His chamber music recordings with Casals or with Stern and Rose remain among the absolute references. In addition to these, Istomin would probably have mentioned the videos he made for the French Television (the complete Beethoven and Brahms Trios, some Mozart Concertos and a few solo pieces), of which he was very proud.