Peter Maag was a lifelong close friend of Eugene Istomin. Born in St. Gallen in 1919, he died in Verona in 2001. He was the great-nephew of Fritz Steinbach, distinguished conductor and close friend of Brahms, who had been the teacher of Adolf and Fritz Busch. He made his debut as a pianist and played the Beethoven Fourth Concerto under Furtwängler, who advised him to become a conductor. It was not because he was a poor pianist, but because Furtwängler had noticed that he was continuously anxious to cue in the orchestra. He became the assistant to Furtwängler and later on to Ansermet.
Peter Maag had a major career, for a long time mainly as an opera conductor, but he interrupted it for two years (from 1962 to 1964) when he realized that success had distanced him from Music and the Divine. He retired first to a Greek Orthodox monastery and later to a Buddhist retreat. Peter Maag devoted himself first and foremost to concerts only from the mid-80s. When he became musical director of the Bern Symphony Orchestra, he shortly thereafter asked Istomin to perform Beethoven's Fourth Concerto with him, but did not suggest that Istomin become a conductor!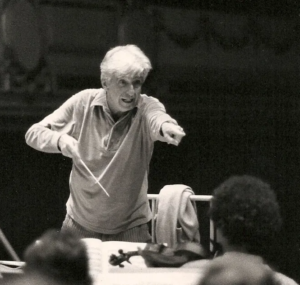 1988, September 8 & 9. Bern, Casino, Grosser Saal. Beethoven, Concerto No. 4. Berner Sinfonieorchester.
1989, October 7 & 8. Venice, Teatro de la Fenice. Beethoven. Concerto No. 3. Orchestra Filarmonica della Fenice.
1990, May 10 & 11. Padua. Mozart. Concerto No. 21. Orchestra di Padova e del Veneto.
Beethoven. Symphony No. 6 "Pastorale", a short excerpt. Orchestra della Svizzera Italiana. Peter Maag