"Before World War II, Paul Paray had been in love with a great Russian singer, Nina Koshetz. It was rumored that Rachmaninoff had also fallen in love with her, and he dedicated his Songs Op. 38 to her. After the Revolution, Nina Koshetz took refuge in France and would later emigrate to the United States. When the Nazis invaded France, Paray resigned from the Concerts Colonne and then from the Radio Orchestra because he refused to separate from the Jewish musicians. In 1942, he married Yolande, an Alsatian Jew, which was a very courageous act at the time. After the war ended, Paray took over the direction of the Concerts Colonne and resumed his career in the United States as a guest conductor, notably in Cincinnati and Pittsburgh.
His former friend Nina Koshetz was part of the same circle of Russian emigrants as my parents. I was already a young pianist starting a brilliant career and Nina often talked about Paul Paray: 'Yes, we were lovers in the past. Paul Paray is a great conductor and a great person, a great gentleman. Eugene must absolutely play for him.' Despite their previous affairs and marriages, Nina Koshetz and Paul Paray remained close, and the two couples were friends for life. I didn't even know Paul Paray's name, because he was not yet well known in America at that time. Nina Koshetz arranged for me to meet him in 1946 in Cincinnati. I was 20 years old. I went to his hotel, and I played Schubert's little Sonata in A major. He was really very impressed, very enthusiastic. He said to me: 'You absolutely must play with me. I'm going to invite you, I don't know when, but I want to invite you!' He did not have his own orchestra in America at that time, so he could fulfill his promise only in February 1950, with the Pittsburgh Symphony."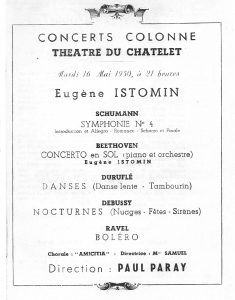 "He also invited me to France in the spring of 1950. We performed Beethoven's Fourth Concerto in Paris (with the Orchestre Colonne at the Théâtre du Châtelet), Lyon, Marseilles and Vichy. What I didn't know at the time was that he paid me with his own money. He deducted enough from his own fee to pay me, because the concert societies had no money for a completely unknown young American pianist. He introduced me to Marcel de Valmalète, the most important impresario in France. It was not Prades who opened the doors of France to me, it was Paul Paray, and we remained faithful friends for the rest of our lives. I really loved Yolande, too. I have so many memories of friendships and concerts in America and France. I think the last time was with Lamoureux, in Pleyel. We played three concertos with the Trio: Beethoven 4, Brahms Double, and the Beethoven Triple. Paray was also very close to Stern and Rose. He was not only a great musician, scandalously scarcely acknowledged by French people, but also a great person."
Interview with Bernard Meillat (1987)
In the early 1990s, Eduard Perrone, a priest who was a great devotee of Paul Paray, contacted Eugene Istomin and asked him for help in reviving the works of this great musician. Paray had not only been a brilliant conductor but also a talented composer. When Istomin discovered the score of his Fantaisie for piano and orchestra, he was seduced by this youthful work, full of freshness and poetry, which José Iturbi had premiered in Paris and America. For a long time, Istomin asked the Detroit Symphony Orchestra, in vain, to pay tribute to his former music director by programming his Fantaisie. He eventually decided to record it himself with the Budapest Symphony Orchestra conducted by his friend Jean-Bernard Pommier. In the same sessions, Pommier also recorded two other works by Paray, the Symphony No. 2 "Le Tréport" and the Symphonie d'archets.
1950, February 17 & 19. Pittsburgh, Syriah Mosque. Beethoven, Concerto No. 4. Pittsburgh Symphony. Recorded concert.
1950, May. Paris (Théâtre du Châtelet), Lyon, Vichy, Marseilles. Beethoven, Concerto No. 4. Orchestre des Concerts Colonne.
1951, November 22. Detroit, Masonic Temple. Mozart, Concerto No. 9 K. 271. Detroit Symphony.
1952, February 1 & 3. Pittsburgh, Syriah Mosque. Chopin, Concerto No. 2. Pittsburgh Symphony.
1953, December 10. Detroit, Masonic Temple. Chopin, Concerto No. 2. Detroit Symphony.
1957, October 31. Detroit, Ford Auditorium. Brahms, Concerto No. 2. Detroit Symphony.
1962, October 11 & 13. Detroit, Ford Auditorium. Tchaikovsky, Concerto No. 1. Detroit Symphony.
1962, October. Paray's farewell tour. Tchaikovsky, Concerto No. 1. Detroit Symphony.
1965, January 28 & 30. Detroit, Ford Auditorium. Beethoven, Concerto No. 4. Detroit Symphony.