Alexander Schneider stands out as one of the key figures in Istomin's life. It is thanks to him that Istomin was invited to the first Prades Festival and met Casals!
Alexander Schneider was also a major partner for him, as a violinist and as a conductor. Together they collaborated in more than a hundred concerts in Prades, Puerto Rico, Marlboro, Paris, the Library of Congress, and Israel. Their relationship was never simple because Schneider tended to act like an elder brother whose mission it was to give advice and at times, even to castigate. He was so convinced that he was the holder of the truth that he considered it his duty to convey this to his friends, even if it was unpleasant to hear. He behaved this way with many people – and many ended up getting angry with him. With Istomin, this inevitably caused some tension, but their mutual affection for each other and memories of the great moments they had shared allowed them to overcome this.
Alexander Schneider's life is like a novel, which he recounted in his memoirs Sasha, A Musician's Life. Born in Vilnius in 1908, he left at the age of sixteen to study in Frankfurt. Three years later he became concertmaster of the Saarbrücken Orchestra and in 1929 of the NDR Orchestra in Hamburg. In 1932, he joined the famous Budapest Quartet, which was forced to flee Germany in 1933 and finally settled in the United States at the beginning of the Second World War. Schneider left the Budapest Quartet in 1944 in order to found various chamber music ensembles.
One of these was a duo with the harpsichordist Ralph Kirkpatrick. They gave their first concert in January 1945 at Dumbarton Oaks in Washington, and pursued a fruitful collaboration for ten years with a repertoire ranging from Corelli and Biber to Mozart. There was also the Albeneri Trio, with the pianist Erich Itor-Kahn and the cellist Benar Heifetz. This Trio lasted only three years, as Schneider had by then decided to embark on a new experience – a piano quartet. Schneider founded the New York Piano Quartet with Mieczyslaw Horszowski, Milton Katims and Frank Miller (the latter two being principal violist and cellist of the NBC Symphony under Toscanini). Their concerts and recordings of works by Mozart, Beethoven, Brahms, Fauré and Martinu were very successful and revealed a hitherto little- known but marvelous repertoire.
At the same time, Sasha, as everyone called him, threw himself into other amazing challenges. He launched a string quartet named after him, with the violinist Isidore Cohen, the violist Karen Tuttle and the cellist Madeline Foley (later replaced by Hermann Busch), with whom he recorded most of the Haydn Quartets (only the liquidation of the Haydn Society subsequently prevented them from recording all of them). He also decided to perform and record the complete Bach Sonatas and Partitas for solo violin, which he studied with Casals in Prades. It was there that he had the idea of founding the Prades Festival. As Casals refused to give concerts in countries which had recognized the Spain of Franco, Schneider suggested that he invite musicians from all over the world to come and celebrate the 200th anniversary of Bach's death in Prades!
In 1955, Schneider returned to the Budapest Quartet, which had reduced its activity. This allowed him to become involved in various other projects. He devoted himself body and soul to Marlboro from 1955 to 1977. At Casals' request, he established the Puerto Rico Festival where he remained artistic director until 1974.
In 1957, he founded a series of concerts under the aegis of the New School University in New York City, with an ambitious program which featured talented young performers and contemporary music and offered tickets at very affordable prices. In 1969, he founded the so-called Christmas String Seminars, which brought together each winter the best young string players in the country for an intensive workshop, forming a string orchestra whose enthusiasm and virtuosity were unequalled. The session ended with concerts at Carnegie Hall and the Kennedy Center. Fifty years later, the experience still continues with tremendous success, thanks to Sasha's great friends, Frank Salomon and Jaime Laredo.
Later on, Sasha participated in the birth of the New York Mostly Mozart Festival and the Chamber Orchestra of Europe, whose first recordings he conducted. In addition to being a great musician, Sasha was a fantastic mover of musical life, always bubbling over with ideas and energy, in addition to demonstrating great generosity.
Istomin and Schneider first met in 1949 at the home of Mrs. Leventritt, the famous American patron of the arts. They played a Mozart sonata together, and Sasha immediately asked Istomin to join him in performing the complete Beethoven Violin Sonatas at three prestigious universities in New York, Chicago and Cambridge, Massachusetts. The first rehearsals were quite strained, as Istomin had previously played these sonatas with Adolf Busch and he found Schneider's playing to be lacking in rigor and intensity. However, Schneider was impressed enough to invite Istomin to the Prades Festival, where he was welcomed with open arms by Casals. The following year in Perpignan, Schneider and Istomin performed and recorded nearly all the Beethoven Trios, as well as the Schubert Trio in B flat major, with Casals. This was followed by an unforgettable holiday together in Greece, where both made friends with Manos Hadjidakis, the famous Greek composer and songwriter.
In 1952, Sasha took a break and gave up the artistic direction of the Prades Festival, which he had taken over with Casals for the first three years. He was upset by the mismanagement and constant recriminations of the French committee, and tired of the constant demands made by the invited soloists, who were all competing for the privilege of playing with Casals. There was also the issue of the orchestra: Sasha had declared that the financial situation was not strong enough to allow reconvening an orchestra for the 1952 festival. Some of the musicians who had participated in the orchestra during the first festivals felt that Sasha had betrayed them and that he had failed to meet Casals' highest expectations. They tried to persuade Casals into organizing a symphonic festival after the chamber music one, without Sasha's knowledge, who felt outraged by this initiative! In addition, he had fallen madly in love with Geraldine Page, which resulted in him being much less available. Sasha was surprised that Istomin succeeded him and even amazed that he managed to bring together a high level orchestra for the following festival. He felt a certain degree of jealousy and was not on friendly terms for a while, but their common deep attachment to Casals prevented them from nurturing any lasting resentment.
They were happy to meet each other again with Casals in Puerto Rico. After the 1957 festival, Sasha wrote to Istomin: "I can't wait to embrace you again and to tell you again how much I love and like you (which I hope you know) – but it is better if you have it in black and white on official paper!" As Casals could not conduct complete programs and often asked Schneider to replace him for concertos, Istomin and Schneider collaborated together in some memorable concerts in Puerto Rico, in particular for the Schumann Concerto in 1959 and the Beethoven Third in 1970. Istomin introduced Schneider to Pierre Vozlinsky, who was then head of the music department for French Television. Vozlinsky invited Sasha to revive the Chamber Orchestra of the ORTF by conducting a dazzling Mozart cycle which had Parisian music lovers arriving in droves and which also attracted many television viewers. Stern and Istomin were among the invited soloists.
These collaborations gave Istomin a great deal of pleasure, even though he occasionally lamented the fact that Sasha tended to caricature Casals a little, resorting to excessive phrasing and tempos. Ralph Kirkpatrick also blamed him for having indiscriminately absorbed too much of Casals. Istomin also regretted the fact that Schneider was often extremely authoritarian with his musicians.
Despite their having performed chamber music together so often in every possible formation from duet to quintet, with Casals, Stern and Rose, and with the Budapest Quartet, Istomin and Schneider argued incessantly about the role of the piano! Istomin invariably pointed out that the piano plays the main role in sonatas and trios, from Mozart to Brahms. He agreed that the piano had to know how to fade out when the melodic line was entrusted to the string instruments, but he claimed that it would be counter-productive to close the lid of the piano in order to guarantee that his playing would not cover his partners in such passages. A good pianist should be capable of balancing his sonority. The least that can be said is that Sasha was not convinced. In his memoirs he talked about Istomin's chamber music records in these terms: "Of course, his recordings of trios and sonatas with Isaac Stern and Leonard Rose are famous, but I don't like them. And the reason I don't like them is the mistake most pianists make when they play chamber music with the piano completely open. No matter how carefully they play, they crush the violin and cello and it becomes like a piano solo with the accompaniment of two string instruments installed somewhere else on another planet."
At the end of the 1980s, another bone of contention was Istomin's decision to go on extended tours throughout the United States with a truck carrying his own pianos. Sasha dismissed the idea out of hand, refusing to take into consideration either the pianist's desire not to be dependent on mediocre pianos or the musician's wish to bring live music back to cities which had been left off the concert tour circuits. Sasha saw in this nothing more than a publicity stunt, and concluded: "You're no better than the others".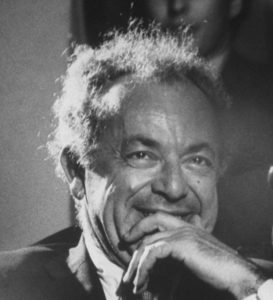 Their fraternal friendship managed to survive this ultimate quarrel, but sadly Sasha had become more and more bitter. He had so loved the pleasures of life that he could not bear the trials of growing old – no longer being able to play the violin and gradually losing his sight, having difficulty climbing stairs and moving about in his house.
During his last years, Eugene Istomin and Marta were among his most faithful friends. Sasha had been so important to them! In the summer of 1974, when they had decided to marry, they wanted Sasha to be the first to know, and made a special trip to his house in Paradou, Provence, in order to tell him.
Beethoven, Trio No. 2 in G Major Op. 1 No. 2; Trio in B flat Major Op. 11; Trio in E flat Major Op. 70 No. 2; Trio in B flat Major Op. 97 "Archduke". 
Schubert, Trio No. 1 in B flat Major Op. 99 D. 898.
Eugene Istomin, piano. Alexander Schneider, violin. Pablo Casals, cello.
Recorded in August 1951 in the Perpignan Theater. Reissued on CD by Sony in 1992.
1949, fall. Chicago, New York and Cambridge (Massachusetts). Beethoven, Complete Violin Sonatas (three concerts at each university).
1951, July 12. Perpignan, Palace of the Kings of Majorca. Beethoven, Trios Op. 1 No. 2, Op. 11, Op. 70 No. 2. Casals.
1951, July 16. Perpignan, Palace of the Kings of Majorca. Beethoven, Variations Op. 121a, Op. 1 No. 3, Op. 97 "Archduke". Casals.
1952, June 25. Prades, Saint-Michel de Cuxa Abbey. Schubert, Trio in B flat Major D. 898. Casals
1957, May 1. San Juan de Puerto Rico, University Theater. Mozart, Concerto No. 9 K. 271. Casals Festival Orchestra.
1958, May 8. San Juan de Puerto Rico, University Theater. Brahms, Concerto No. 2. Casals Festival Orchestra. Recorded concert.
1958, July 26. Marlboro. Mozart, Concerto No. 9 K. 271. Marlboro Festival Orchestra.
1959, May 1. San Juan de Puerto Rico, University Theater. Schumann, Concerto. Casals Festival Orchestra. Recorded and filmed concert.
1970, May 31. San Juan de Puerto Rico, University Theater. Beethoven, Concerto No. 3. Casals Festival Orchestra. Recorded concert.
1972, January 28. Paris, Théâtre des Champs-Elysées. Mozart, Concertos K. 271 & 449. Orchestre de Chambre de l'ORTF. Live recording and studio filming.
1972, February 4. Paris, Théâtre des Champs-Elysées. Mozart, Concerto for 2 Pianos K. 365. Jean-Bernard Pommier. Orchestre de Chambre de l'ORTF. Live recording and studio filming.
1972, June 13. San Juan de Puerto Rico, University Theater. Bach, Brandenburg Concerto No. 5. John Wummer. Mozart, Concerto for 2 Pianos K. 365. Jean-Bernard Pommier. Casals Festival Orchestra. Recorded concert.
1973, August. Israel Festival. Mozart, Piano Quartet K. 478. Stern, Schneider (viola), Rose.
1973, August. Israel Festival. Mozart, Concerto K. 271. Israel Festival Youth Orchestra.
1976, June 14. San Juan de Puerto Rico, University Theater. Bach, Concerto for 3 Pianos BWV 1064. Serkin, Horszowski. Orchestra Juvenil Interamerica del Festival Pablo Casals. Recorded concert.
Mozart. Concerto No. 14 in E flat major K. 271. Eugene Istomin, Chamber Orchestra, Alexander Schneider. Studio recording in 1972
.
Schubert. Trio No. 1 in B flat major D. 898, first movement (Allegro moderato). Eugene Istomin, Alexander Schneider, Pablo Casals. Recorded by Columbia in August 1951.
.
Brahms. Concerto No. 2 in B flat major Op. 83, the two last movements (Andante; Allegretto grazioso). Eugene Istomin, Pablo Casals Festival Orchestra, Alexander Schneider, Live recording at San Juan de Puerto Rico on May 8, 1958.
.
Mozart. Concerto No. 9 K. 271, the end. Eugene Istomin, ORTF Chamber Orchestra, Alexander Schneider. January 1972.