For Istomin, Greece was the cradle of our modern civilization. He was genuinely in love with this country. In August 1951, after recording five Beethoven and Schubert trios with Casals at the Perpignan Theater, Schneider and Istomin left for Greece. After a first stop in Salonika, they went to Athens where they made friends with Manos Hadjidakis. Hadjidakis, who was the same age as Istomin, was already a very popular songwriter in Greece, and would become one of the most famous film composers, winning an Oscar in 1960 for the soundtrack of Jules Dassin's Never on Sunday. He also made a name for himself in American pop music. But at the same time, he remained throughout his life an avant-garde composer, collaborating with experimental directors, writing ballet music for Béjart, and founding an ensemble in Greece to premiere the works of Iannis Xenakis and other great contemporary composers. He was also the musical director of the National Orchestra with whom Istomin performed several times under his baton.
A passion for Greek civilization
In Athens, Istomin was enthralled by the Acropolis and overwhelmed with emotion. He spent a whole day there, despite the scorching sun. He had the feeling that he was penetrating the spirit of Pericles' Greece, the cradle of democracy and art. What also distressed him was the destiny of this civilization, its admirable and irresistible rise, and its inexorable fall. This question led him to read numerous books and to take a particular interest in the theories of Arnold Toynbee, the British historian who published the 12 volumes of A Study of History between 1934 and 1961. This extensive survey was presented as an analysis of the birth, development and decline of all civilizations. Toynbee theorized that each civilization is born from the need to meet challenges of various kinds: economic, technological or social. Its development can only be achieved through a creative minority that involves the entire population. As long as there are challenges to be met, civilization develops, then declines inexorably, by its own accord: "Civilizations die by suicide, not by murder". Eugene Istomin met Toynbee in the late 1950s and established lasting friendly ties with him. He started studying Greek and began a collection of vases and antiques which he pursued throughout his life.
Meeting Princess Irene of Greece
It was very touching for Istomin to have been invited to give a recital at the Herod Atticus Theatre in July 1962 during the Athens Festival. At the end of the concert, his friend Gina Bachauer, the great pianist of Greek origin, came to congratulate him and invite him to a party at the Royal Palace. Despite a difficult moment, due to the presence of Herbert von Karajan with whom Istomin did not wish to have any contact, the evening was very cordial. Gina Bachauer and Eugene Istomin performed the Rachmaninoff Concerto No. 2, with Istomin improvising the orchestral accompaniment on the second piano. Gina Bachauer was very close to the royal family and taught piano to the two princesses, Irene and Sofia. Istomin was charmed by Irene, who at the time was twenty years old. She was an excellent pianist who gave numerous concerts with her teacher, including a performance of the Mozart Concerto for Two Pianos with the Philadelphia Orchestra under Ormandy. She was also invited by Milton Katims to play the Bach Concerto for Two Keyboards BWV 1061 along with Gina Bachauer and the Seattle Symphony. Katims related in his memoirs The Pleasure was Ours: "Irene played quite well and was a worthy partner of her famous tutor. The princess was a smash hit as she swept on-stage in a glittering, white gown, with a little diamond tiara atop her dark brown hair. She looked and played as a princess should."
Eugene and Irene met regularly, especially at concerts or official events (including a reception at the White House in February 1967). They shared a deep mutual affection for each other, but royal protocol required a potential heiress to the Greek throne to confine herself to formal meetings. Nevertheless, their friendship remained very strong until Istomin's death. On the occasion of his 75th birthday, she wrote to him: "You are such a simple and kind person that one has to kick oneself to remember what a profound musician you are and how awe-inspiring your playing is."
Another event, of a political nature this time, shocked Istomin: the April 1967 coup d'état, fomented by the CIA, which feared that King Constantine would not be able to deal with the likely victory of the parties of the left in the upcoming parliamentary elections. Such a victory could result in Greece's departure from NATO, its reconciliation with the USSR and a serious change in the balance of forces in the Mediterranean. The US 6th Fleet, which had just been driven out of France and had resettled in Italy, would have to face a much more delicate situation.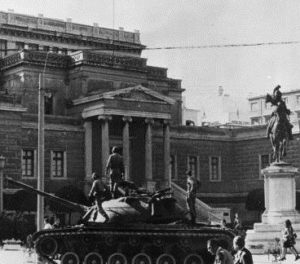 A fascist regime was established. All opponents were arrested, thrown into jail or penned up on the islands. Some were able to flee, such as Manos Hadjidakis who went into exile in New York where Istomin sheltered him for a while. A few weeks later, Istomin was scheduled to give two concerts with Isaac Stern and Leonard Rose at the Herod Atticus Theatre as part of the Athens Festival. A committee including Leonard Bernstein, Edward Albee, Jules Dassin and Melina Mercouri urged artists to cancel any participation in cultural events in Greece that could be considered as expressions of support for the fascist regime. There was a lengthy discussion at Pierre Salinger's home, and in the end, the Trio decided to go ahead with the concerts, scheduled for June 29 and 30, while trying to express as clearly as possible their disapproval of the regime and their support for the political prisoners. Istomin endorsed this position, although he would have preferred to cancel. He subsequently made public his decision not to return to Greece under the current regime.
In 1974, once democracy was restored, Istomin received a letter of thanks from the new government for his sympathy and support, inviting him to come back to Greece as soon as possible. He quickly returned to the National Orchestra of Greece, of which Manos Hadjidakis had become the music director.