Istomin's teacher Rudolf Serkin was a great champion of Mendelssohn. Not only did he perform and record his concertos but in the 1940s and the 1950s he often played some of his short pieces in recital, either famous works like the Rondo Capriccioso and some Songs without Words, or more neglected ones (Fantaisies Opus 16, Preludes and Fugues Opus 35, Etudes). Under Serkin's fingers this music did not sound "light" but intense. He interpreted them in a Beethovenian mood, with an extremely dramatic tension.
Istomin had been tempted to play Mendelssohn's First Concerto. He liked the two first movements a great deal, but felt that the Finale was too brilliant and superficial. He hesitated for a few years and eventually  abandoned the idea.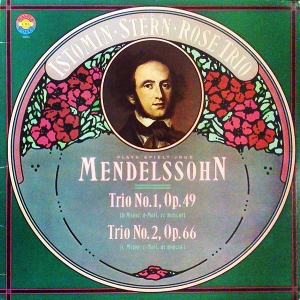 The Mendelssohn Trio No. 1 remained in his core chamber music repertoire for more than twenty years. He performed it for the first time in 1955 at Ravinia for the debut of the Trio Istomin-Stern-Rose. From the moment they launched their ensemble in 1961, they continued to play it with great frequency. They recorded it in 1966, but Istomin was not completely happy with the results. Perhaps he had too vivid a memory of the concerts in Puerto Rico in 1959, when together with Casals and Stern, they had given inspired performances of the first trios by Mendelssohn and Brahms.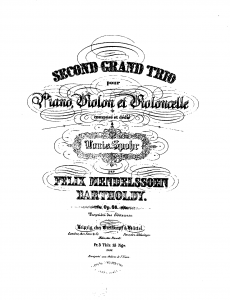 Istomin, Stern and Rose tackled the Mendelssohn Second Trio only in the mid-1970s. It turned out to be their final recording, in July of 1979. Istomin was fully satisfied with his performance and that of his colleagues. He surmised that it was perhaps the best recording ever made by their Trio. Moreover he thought that this work was unjustly overshadowed by the celebrity of the First Trio, which is more extroverted but less moving. Leonard Rose wrote to Istomin in August 1981: "I cannot resist writing you – just listened to our C minor Mendelssohn – the overall performance is glowing, beautiful and spirited. It's important to me to tell you how overwhelmed I was with your playing. The brilliant technical mastery and sensitive musical ideas were touching."
Mendelssohn's Song Without Words in G major Opus 62 No. 1, called "May Breezes", was one of Istomin's favorite encore pieces during the last years of his career. It revealed his unique tone, so distinctly recognizable, and his art of cantabile, which gave the impression of a perfect legato, even though he gave a separate attack to each note.