The legendary trio Istomin-Stern-Rose was born in 1955 at the Ravinia Festival, the summer residence of the Chicago Symphony Orchestra. For Eugene Istomin and Isaac Stern, it was the continuation of a project they had dreamed of a few years earlier, in Prades: forming a trio with the great Casals. Istomin had performed and recorded the complete Beethoven Trios with Casals and Schneider at the 1951 Festival in Perpignan. The following year, Stern joined Istomin and the great Catalan cellist to play the Brahms Trio No. 3. But it was unrealistic to expect to enlist their prestigious elder in such an adventure. Casals had a very paternal affection for them and took great pleasure in sharing these moments of music which reminded him of the days of the famous Cortot-Thibaud-Casals trio. Nevertheless, he had given up playing in public outside Prades until the Allies put an end to General Franco's fascist regime.
In 1955, Eugene Istomin was not yet 30 years old, but he was already well on his way to becoming a star in the United States. Isaac Stern, five years his senior, was already world-famous. Japan had just welcomed him as a living god, and he was the first American artist to be invited by the USSR since the end of the war.
When the Ravinia Festival offered Istomin and Stern a summer residency playing several concertos with the Chicago Symphony and four chamber music concerts, they had no doubts when it came to choosing the cellist who would join them. It could only be Leonard Rose. At 37 years of age, he was considered to be the great American cellist of his generation. Principal cellist of the Cleveland Orchestra and then the New York Philharmonic, he embarked on a solo career in 1951, recording Schelomo by Bloch and Saint-Saëns' First Concerto under Mitropoulos. He was on friendly terms with Istomin and Stern, and they often played chamber music together for their own pleasure. Stern and Rose made an outstanding recording of Brahms' Double Concerto under the baton of Bruno Walter in November 1954.
The Ravinia Festival 1955
Thus three friends, three young musicians full of ambition, found themselves in the spotlight of Ravinia. They had prepared four long programs as thoroughly as their constant dispersal around the world had allowed. It had been also in Ravinia, six years earlier, that Arthur Rubinstein, Jascha Heifetz and Gregor Piatigorsky had performed together for the first time. The event had made headlines in the press, which nicknamed them the "Million Dollar Trio"! Would these young wolves be able to withstand comparison with their illustrious predecessors? That was the big question everyone was asking. The response was positive, with a tremendous standing ovation after Schubert's Trio in B flat major, the last work on the program of their marathon, which had attracted some 3,400 spectators four nights in a row. It was an amazing success, even if the attention of the audience, unfamiliar with the repertoire, had weakened at times. Moreover, the acoustics were unsuitable for chamber music and the weather extremely hot and humid.
The reviews were mixed. The critic for the Chicago American/Today Roger Dettmer was the only one who showed unrestrained enthusiasm, titling his article: "Istomin-Rose-Stern Trio Makes Ravinia Once Again a Festival". He considered that these young musicians deserved the designation "Million Dollar Trio" even more than Heifetz, Piatigorsky and Rubinstein. Predictably, Claudia Cassidy of the Chicago Tribune was dissatisfied, considering the acoustics inadequate and decreeing that their interpretations lacked warmth. Felix Borowski, a highly respected musicologist and critic in Chicago (who wrote the program notes for the Chicago Symphony for nearly fifty years!), praised their performance of Mendelssohn's Trio Op. 49 in the Chicago Sun-Times, considering that this work, "which has been sneered at as old-fashioned and even trite, contains considerable charm". He also was of the opinion that Brahms would have done better to give up revising and publishing his Trio Opus 8, which was so dull and boring.
What was particularly discouraging for the members of the Trio was the lack of knowledge and understanding of the chamber music repertoire. In America, symphonic life was flourishing, while chamber music was still in its infancy. Not completely satisfied with themselves and the reaction of the media, Istomin, Stern and Rose decided not to repeat this experience immediately. It might have remained a one-off experience, like the "Million Dollar Trio"! In 1949, Rubinstein, Heifetz and Piatigorsky, then at the summit of their art, had given four concerts and made a few recording sessions, but had never gotten together again! The most positive thing was that Istomin, Stern and Rose had enjoyed preparing and giving these concerts, even if they did not yet feel musically ready. The project needed to mature, and they were all very busy with their solo careers. They had to wait for a good opportunity to really embark upon the adventure.
1961 : The Israel festival and the first concerts in England
In 1961, the moment arrived with the founding of the Israel Festival. Isaac Stern asked Alexander Schneider to set up an ambitious chamber music program and to include a series of concerts by the Istomin-Stern-Rose Trio. The festival, from August 26 to September 17, had also invited the Budapest Quartet (for the complete Beethoven Quartets), Rudolf Serkin and Pablo Casals. Despite some health concerns (Rose was suffering from a slipped disc, and Istomin from tendonitis in his thumb), this new experience was a huge success, culminating with a concert in the Roman amphitheater in Caesarea with all the festival artists. The fervor of the Israeli public made Rose and Istomin forget their pain, and the three musicians felt sure that they were on the right path. The next step was a series of concerts in London in November and December, where the members of the Trio were featured successively as soloists and in chamber music in the huge Royal Festival Hall.
The Trio's visit to England created a huge sensation. There were reports in the British press as soon as they arrived. In the Evening Standard of November 18, Stern stated that they had formed a trio because of the "enormous excitation in cooperating with musicians who are one's equals in thought and feeling". In the Daily Herald of November 23, he explained that they were not staying at the hotel but were at Hugo Rignold's instead (the distinguished English conductor was on tour) because they could rehearse more intensely there, adding that in chamber music "you have to think, practically breathe, together".
Peter Heyworth in The Observer summed up the amazement and enthusiasm of the British press and music lovers. He noted the cruel deficit of high-level chamber music ensembles, which he believed was largely based on an economic problem, discouraging soloists already well into their careers as well as young musicians who were able to make a very comfortable living in orchestras or in free-lance activities: "To abandon these lucrative activities to make time for the abundant rehearsal that is an absolute prerequisite of first class chamber music is to take a vow of poverty, and while many musicians may be Franciscans in heart, their wives and families are apt to take a more material view of the situation". He was delighted by the interpretation of the Beethoven and Mendelssohn Trios, and was at a loss for words regarding the Schubert Trio, commenting "… but a plague on epithets that leave the core of the experience untouched". This time, the Trio was well and truly launched. Istomin, Stern and Rose had had the wisdom to break in their programs far from America, and to rely on the enthusiastic reviews of old England before facing the unprepared American critics. It was time to conquer the United States.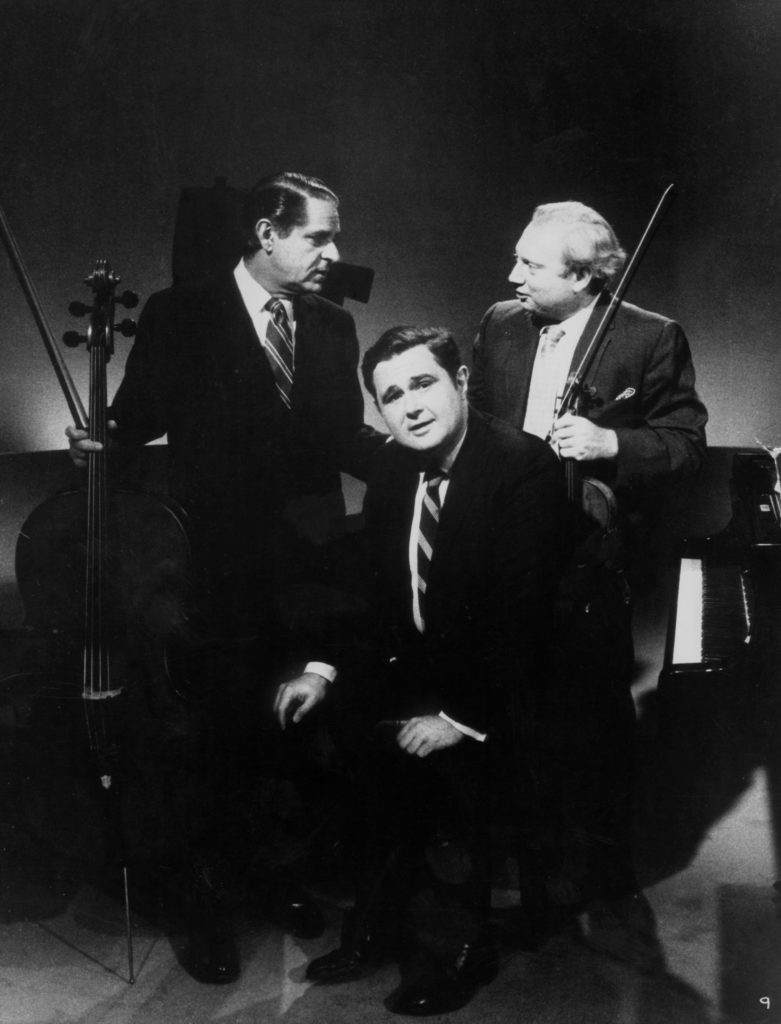 .
Programs in Ravinia during the 1955 Festival
Tuesday, August 9. Beethoven, Trio Op. 11; Bach, Chaconne for Solo Violin BWV 1004; Kodaly, Duet for Violin and Cello Op. 7; Mendelssohn, Trio No. 1 Op. 49
Wednesday, August 10. Brahms, Violin Sonata No. 1 Op. 78; Beethoven, Cello Sonata No. 3 Op. 69; Schumann, Abegg Variations; Brahms, Trio No. 1 Op. 8.
Thursday, August 11. Beethoven, Variations on "Bei Männern, welche Liebe fühlen" from The Magic Flute WoO 46; Beethoven, Violin Sonata No. 7 Op. 30 No. 2; Brahms, Cello Sonata No. 2 Op. 99; Brahms, Trio No. 3 Op. 101.
Friday, August 12. Beethoven, Trio Op. 1 No. 3; Mendelssohn, Trio No. 1 Op. 49; Schubert, Trio in B flat major Op. 99.
Istomin opened the festival on July 28 with Beethoven's Concerto No. 4. On August 2, he played Chopin's Second Concerto. On August 4, it was Rose's turn to take the stage with the 1st Concerto by Saint-Saëns. On August 5, Stern performed the Brahms Concerto and, the next day, the Brahms Double with Rose. They were accompanied by the Chicago Symphony Orchestra under Enrique Jorda.                                                                                                                                                                              .
Nine concerts at the Israel Festival in August and September 1961
The Trio alternated two programs:
Program 1: Beethoven, Trio Op. 70 No. 2; Ravel, Trio; Mendelssohn, Trio No. 1 Op. 49.
Program 2: Brahms, Trio No. 2 Op. 87; Beethoven, Trio Op. 70 No. 1; Schubert, Trio in B flat major.
Istomin also played with the Budapest Quartet (Mozart, Quartet K. 478 and Dvořák, Quintet Op. 81) but he had to cancel the Mozart Concerto for 2 Pianos K. 365, with Rudolf Serkin, Alexander Schneider and the Israel Philharmonic Orchestra.                                                                                                                                                      .
Concert at the Royal Festival Hall on December 11, 1961
Beethoven, Trio Op. 70 No. 2; Mendelssohn, Trio No. 1 Op. 49; Schubert, Trio in B flat major D. 898.                                                                                                                                                                                   .