Jaime Laredo heard Istomin for the first time in April 1956, while studying at the Curtis Institute. Istomin performed the Rachmaninoff Second Concerto with the Philadelphia Orchestra conducted by Ormandy. Laredo was amazed by the virtuosity and musicality of his playing. The following year, as a very promising young violinist (he would win the Queen Elizabeth Competition in 1959, before turning eighteen), he was invited to attend the first Puerto Rico Festival where he heard Istomin perform Mozart's Concerto K. 271 and Piano Quartet K. 493. His admiration for Istomin never faded and Laredo attended Istomin's concerts whenever he could. He retains unforgettable memories of the Schubert Sonata in D major, the Beethoven Waldstein Sonata and Fourth Concerto, both works in which he felt Istomin surpassed even Serkin.
In 2000, for Istomin's 75th birthday, Laredo wrote to him: "You have been one of my musical heroes since the first time I heard you. It is a privilege and an honor for me to participate in this tribute to one of the great musicians of our time.'' During the evening, Laredo played the first movement of the Mendelssohn Trio in D minor with Istomin and Rostropovitch, and Korngold's Suite Op. 23 with Gary Graffman, Michael Tree, and Sharon Robinson. When Istomin died, Laredo took part in the memorial concert at Carnegie Hall, playing the Brahms Piano Quartet Op. 60 with Leon Fleisher, Michael Tree and Sharon Robinson, his wife.
When the Istomin-Stern-Rose Trio cut back its activity, Laredo tried to convince Istomin to devote some time to playing piano quartets or quintets. Istomin was reluctant because he was extremely busy and wanted to focus on his solo career, but out of friendship and love for this repertoire, he eventually gave numerous concerts with Jaime Laredo, Michael Tree and Sharon Robinson in the late 1970s and early 1980s. They played piano quartets by Mozart (K. 478 and 493), Beethoven, Schumann and Brahms (Op. 25 and 26), as well as the Brahms Piano Quintet Op. 34. However, Istomin balked at performing the Brahms Piano Quartet Op. 60, claiming that he was too old to learn it! The last concert Laredo and Istomin gave together was in 1994 at the Evian Festival together with Slava Rostropovich.
Laredo felt that Istomin made chamber music like a string player, with an alert sensitivity and the willingness to team up and mingle with the other instruments. An excellent pianist himself, Laredo found that Istomin's sound was closer to a string instrument than that of any other pianist. For him, it was clear that Istomin was the soul of the Istomin-Stern-Rose Trio. Whenever Istomin agreed to give a concert, he arrived perfectly prepared, even if he had not played the work for a long time. He was an inspiration, bringing great ideas. The only point on which he could be easily offended was the role of the piano. Laredo remembers a rehearsal of the Beethoven Piano Quartet Op. 16 at the 92 Y in New York. During the Andante, where the cello does not play, Sharon Robinson went to listen in the hall and came back saying: "Maybe the piano is a bit too loud". Istomin immediately bridled, and retorted that he had heard this stupid reproach with the Trio so many times during the past twenty years that he could no longer bear listening to it. The outburst of anger was brief and Sharon Robinson had not taken it badly, but shortly after the end of the rehearsal, Istomin had already phoned to apologize.
What Laredo appreciated most about Istomin on a human level was his faithfulness, his loyalty, and his attention to others, regardless of their social standing. What also struck him was his sincerity! He was often taken aback by Istomin's outspokenness. While invariably respectful of his fellow instrumentalists, he did not hesitate to say all the bad things he thought about managers or certain conductors. When the musical direction of the Detroit Symphony, which had been previously held by such eminent musicians as Paul Paray or Antal Dorati, was entrusted to Neeme Järvi, Istomin declared that it was an aberration and almost a disgrace! Laredo asserts that Istomin could be very intimidating, even for strong personalities, and in particular conductors.
Jaime Laredo pursues an exceptional career in the service of his musical and human ideals. Not satisfied with being a soloist, he manages to combine chamber music (the Trio Kalichstein-Laredo-Robinson), conducting, championing contemporary composers and teaching. He spent many summers in Marlboro, and at the request of Alexander Schneider, succeeded him as conductor of the New York String Orchestra Seminar in 1993.           .
Jaime Laredo was naturally one of Istomin's guests for the Great Conversations in Music at the Library of Congress. When asked about the great musicians who had been the most important to him, Laredo replied: "Heifetz, because he was doing things that I am not able to do, but that I can dream of getting close to!  Casals, who remains the most important in my life, because he has profoundly changed my approach to music (I have his photo in my studio, and he is the one I question most often when I work). And then Leonard Rose, who was my first chamber music teacher, and with whom I played all the great chamber music repertoire for the first time." Laredo also expressed his regret that it has now become impossible to recognize the tone of violinists, whereas before he could identify any of them just by hearing a few notes: "Today's young musicians are focused on the appropriate style. They are afraid of appearing to be tasteless and ignorant – they listen to many records and reproduce a standardized sound and interpretation.'' Istomin felt exactly the same about the new generation of pianists. A sign of our times!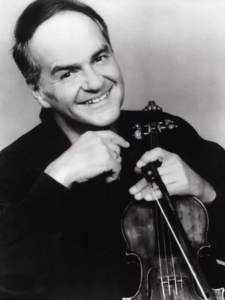 1973, November 11. Carnegie Hall. Brahms. Piano Quartet No. 2 Op. 26. Isaac Stern, violin. Jaime Laredo, viola. Leonard Rose, cello.
1979, December 19 and 20. New York, 92 Y. Brahms. Piano Quintet Op. 34. Jaime Laredo, violin. Michael Tree,  viola. Sharon Robinson, cello. Recorded concert.
1980, April 17. Detroit. Brahms, Piano Quartet No. 1 Op. 25. Isaac Stern, violin. Jaime Laredo, viola. Paul Tortelier, cello.
1994, May 20. Evian. Beethoven. Violin Sonata No. 5 "Spring". Brahms. Piano Quartet No. 2 Op. 26. Jaime Laredo, violin. Choong-Jin Chang, viola. Mstislav Rostropovich, cello.