Madeline Foley (1923-1982) played an important role in Istomin's life. They met each other at the first Prades Festival in 1950. She had been studying with Casals for two years, and shared the first cello chairs with Tortelier in the Festival orchestra. During the summers 1950 to 1952, Madeline Foley and Eugene Istomin spent a great deal of time in Prades with Casals. According to Jaime Laredo, Madeline was most certainly in love with Istomin, but he considered her to be like a sister. She took care of him, watching over his diet or telegraphing in his place to cancel a concert! From 1953 to 1955, they both assumed responsibility for the festival, with Istomin as artistic director and Madeline Foley acting as secretary of the American Executive Committee. In May 1953, they supervised all the recordings that Casals made for Columbia: four Beethoven sonatas with Serkin, two Beethoven trios with Istomin and Fuchs, the Brahms sonatas with Istomin and Horszowski (which in the end, were not released), and Schubert's Fifth Symphony. Madeline Foley was particularly involved in the Schumann Cello Concerto. In addition, she played again in the orchestra together with Tortelier and shared out all the works which required a second cellist along with Casals. In 1952, she participated in the legendary recording of the Brahms First Sextet, while the Schubert Quintet D. 956 was entrusted to Tortelier.
It was in fact due to Tortelier that Madeline Foley and Eugene Istomin both left Prades at the end of the 1955 festival. They had suggested inviting Tortelier the following year to play a Bach suite, or some sonatas and piano trios, a repertoire which until then had been the exclusive domain of Casals. Thinking that they considered him to be too old now, Casals refused and lost his temper. The relationship between Istomin and Casals soon became very close again, whereas Madeline distanced herself on a human level, even though a few months later, she thanked Casals warmly for the letter of recommendation he had sent to the Juilliard School (for a position that she eventually did not obtain). However, her veneration for him as a musician remained intact. She played in the orchestra of the Marlboro Festival under his baton and, above all, prepared a special edition of the Bach Cello Suites. She had worked so much on these scores with him that she was determined to convey Casals' conception as faithfully as possible. She was aware that it was impossible to render Casals as a performer, as he was constantly changing his interpretation, but she focused on Casals the pedagogue, who wanted to give a clear message to his students when teaching them. She undertook to make note of the fingerings and bowings, dynamics, "important" notes, and comments which Casals made on various passages. It was an exciting and colossal endeavor, a precious document for generations of cellists to come and for the history of interpretation. It was completed after her death by David Soyer, the cellist of the Guarneri Quartet, and commented on by Marta Casals-Istomin.
After giving up Prades, Madeline Foley devoted her energy and dedication in service to Marlboro, of which she was a mainstay until the mid-1970s. She eventually settled in Marlboro where she died in 1982 at 59 of a heart attack. She did not lead a healthy life, and the usage of tobacco and alcohol proved to be fatal. She was temperamental, very generous but also very direct, never hesitating to say what she thought. In 1950, Alexander Schneider asked her to take part in a major project initiated by the Haydn Society: to perform and record the complete Haydn String Quartets. She could not tolerate Schneider's authoritarianism, constantly arguing with him and eventually storming out and slamming the door. Jaime Laredo remembers her cutting remarks in Marlboro aimed at the musicians who went astray, or her exasperation with the excessive politeness of a Japanese cellist who worked with her on the Brahms First Sextet and never stopped ceremoniously apologizing!
Before studying with Casals, Madeline Foley had studied at the Juilliard School, where her mother, who had remarried the great Belgian violinist Edouard Dethier, was on the faculty. She made her New York debut with a recital at Town Hall in November 1949. Her program offered a wide range of repertoire from Bach to Debussy, and was a great success. The program for her second recital at Town Hall the following year was even more ambitious (featuring two Beethoven sonatas) but aroused less interest from the public. For a short time, she was principal cello of the Little Orchestra founded by Thomas Scherman, and also performed a few concertos with them, notably the Schumann Concerto at Town Hall in February 1952. Her career continued actively without being invited by the most prestigious venues and orchestras. Her sound was not powerful enough to perform the great concertos, but she gave many chamber music concerts for the series of Community Concerts, universities and chamber music societies. She was involved in contemporary music projects and even played on Broadway!
Eugene Istomin and Madeline Foley were reunited between 1957 and 1961 in Marlboro, where they performed together four times in the weekend concerts. In 1961, they played Ravel's Trio with Arnold Steinhardt. Jaime Laredo, who participated for the first time in the Marlboro Festival, has retained an unforgettable memory of this performance. He had multiple opportunities to play with Madeline Foley in the following festivals and had a great deal of affection and esteem for her. He was struck by the contrast between her very feminine playing and her rather masculine look. Her sound reminded him a little of Casals' (she had continued to use gut strings) and he was often entranced by her musical ideas and her very free and personal phrasing. In particular, he remembers the slow movement of Schumann's Quartet Op. 47 in 1964, where her solo illuminated the work and inspired her partners.
Today, Madeline Foley is quite forgotten, except by the many students whom she influenced so markedly at the New England Conservatory of Music in Boston and at the Mannes College of Music. Her legacy remains in a few records and live recordings, and a wonderful film that she helped to initiate and in which she is participating: Conversation with Casals. More information and a few excerpts can be found below.
Haydn. Complete String Quartets. Schneider Quartet (Alexander Schneider and Isidore Cohen, violins. Karen Tuttle, viola, Madeline Foley or Hermann Busch, cello). Haydn Society, reissued  by Music and Arts in 2014. Box of 15 CDs (CD 1281).
Brahms. String Sextet No. 1 in B flat Major Op. 18. Isaac Stern and Alexander Schneider, violins. Milton Katims and Milton Thomas, violas. Madeline Foley and Pablo Casals, cellos. July 2 & 3, 1952. Prades (Saint-Michel-de-Cuxa Abbey. Sony SMK 58994.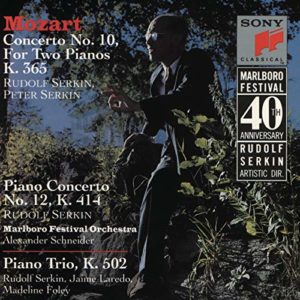 Mozart. Trio in B flat Major for piano, violin and cello K. 502. Rudolf Serkin, piano. Jaime Laredo, violin. Madeline Foley, cello. Marlboro. July 6, 1968. Sony SMK 46235
Schönberg. Serenade Op. 24. Thomas Paul, bass. Jaime Laredo, violin. Samuel Rhodes, viola. Madeline Foley, cello. Harold Wright and Don Stewart, clarinets. Stanley Silverman, guitar. Jacob Glick, mandolin. Leon Kirchner, direction.  Marlboro 1966. Sony SMK 45894                                                              .
Mozart. Flute Quartet K. 285. Bernard Goldberg, flute. Orrea Pernel, violin. Milton Thomas, viola. Madeline Foley, cello. Prades. July 3, 1953.
Schubert. Quintet in C Major D. 956. Jacob Krachmalnick and Orrea Pernel, violins. Karen Tuttle, viola. Pablo Casals and Madeline Foley. Prades. July 7, 1953. CD Music and Arts 1113
Brahms. String Sextet No. 1 in B flat Major Op. 18. Yehudi Menuhin and Árpád Gérecz, violins. Ernst Wallfisch and Karen Tuttle, violas. Pablo Casals and Madeline Foley, cellos. Prades. July 3, 1955.
Brahms. Clarinet Quintet Op. 115. David Oppenheim, clarinet. Sandor Vegh and Árpád Gérecz, violins. Ernst Wallfisch, viola. Madeline Foley, cello. Prades. July 12, 1955.
Schubert. Quintet in C Major D. 956. Sandor Vegh and Árpád Gérecz, violins. Ernst Wallfisch, viola. Pablo Casals and Madeline Foley, cellos. Prades. July 17, 1955.
Brahms. String Sextet No. 2 Op. 36. Yehudi Menuhin and Árpád Gérecz, violins. Ernst Wallfisch and Karen Tuttle, violas. Pablo Casals and Madeline Foley, cellos. Prades. July 18, 1955.
At the 1952 Prades Festival, Madeline Foley shared the works with two cellos with Paul Tortelier. She played and recorded the Brahms First Sextet and Tortelier the Schubert Quintet D. 956. But in the following festivals, she was able to perform the Schubert Quintet along with Casals twice, in 1953 and 1955.
Schubert. Quintet in C major D. 956, first movement (Allegro ma non troppo). Jacob Krachmalnick, Orrea Pernel, violins. Karen Tuttle, viola. Pablo Casals and Madeline Foley, cellos. Recorded live at Saint-Michel-de-Cuxa Abbey on July 7, 1953.
.
Mozart. Trio in B flat major K. 502, last movement (Allegretto). Rudolf Serkin, Jaime Laredo, Madeline Foley. Recorded in Marlboro on July 6, 1968.
.
Madeline Foley and Pablo Casals talking about a sketch of the Beethoven Ninth Symphony and the Spanish Civil War. Excerpt from the film Conversation with Pablo Casals directed by Jacques Baratier and produced by NBC in 1951 at Madeline Foley's initiative.
.
Notes
The edition of the Bach Suites for Violoncello solo was published in 1986 by Continental Publishing Company, which had already published  the Beethoven Variations for Piano and Cello two years earlier, edited by Madeline Foley.
In Broadway, Madeline Foley played the music of The First Gentleman from April 25 to May 18, 1957 along with Abba Bogin, harpsichord, Isidor Lateiner, violin, and Emory Davis, clarinet.
List of Madeline Foley's concerts in Marlboro available on https://www.marlboromusic.org/archives
Madeline Foley's first concerts in New York
For her Town Hall debut in November 1949, she performed Debussy's Sonata and the Brahms E minor Sonata, Beethoven's Variations on "Bei Männern" and two transcriptions dear to the heart of Casals, Bach's Aria from Pastorale BWV 590 by Rosanoff and a Haydn sonata by Piatti. The New York Times critic had come with a biased opinion: "An evening of music for the 'cello can often become oppressive, the instrument being a cumbersome one…"  After having praised her "remarkable imagination" and "graceful use of legato", the critic relayed the societal and musical success: "Miss Foley's fashionable audience filled nearly every seat in the hall. It applauded long and loud after every selection, buzzed excitedly during the intermission, but maintained a flatteringly intent silence when she played."
The program of her second recital at Town Hall, again with pianist Paul Ulanowsky, in November 1950, was even more generous and ambitious: two Beethoven sonatas (Opus 5 No. 1 and Opus 102 No. 1), Schumann's Adagio and Allegro op. 70, Couperin's Pièces en concert (arranged by Bazelaire), and the Boccherini Concerto in B flat. Once again, the New York Times critic (a different one!) arrived with very little enthusiasm: "It was George Bernard Shaw who objected to 'cello recitals on the grounds that the instrument sounded like a bee in a stone jug." He soon attested that this was not at all the case regarding Miss Foley "who is an artist. She not only plays the instrument well, but also has sensitive and personal musical ideas. Her tone, rather small, was beautifully shaded and colored, capable of all the nuances she desired." While admiring her phrasing, he lauded her interpretation of Schumann and Couperin and expressed his appreciation for the Beethoven, but regretted their lack of power ("a little weak in the sense that the Beethoven sonatas need a more virile approach").
In February 1952, Madeline Foley performed again at Town Hall, playing Schumann's Cello Concerto with the Little Orchestra under Paul Sherman. The New York Times critic was disappointed by the quality of the orchestral accompaniment but praised Madeline's performance: "Every note she drew from the strings was expressive. She played its melodies with a deep songfulness, and her tone was beautiful, being full despite its lightness and always having warmth and color without ever being lush".