From 1962 to 1965, while he was studying at Juilliard, Pinchas Zukerman lived with Eugene Istomin's parents. They had kept their son's room exactly as it was when he was living with them. This room used to house passing friends (Clara Haskil slept there!) or young musicians. Pinchas Zukerman has an unforgettable memory of that time. He had been welcomed with great warmth from the very first day, when his adaptation to American life promised to be difficult, arriving alone at the age of fourteen and not speaking a word of English…
This affection only grew – even if Pinchas was sometimes, as he readily admits, a "terrible child" – just like Eugene! The parents were very happy to have a boy at home again, just like in the good old days. Pinchas remembers that Eugene was very attentive to his parents, regularly keeping in touch when he was away, and that he demonstrated great tenderness towards them. The homecomings after each tour were very joyful. Eugene always invited them to great restaurants, and Pinchas often tagged along.
From time to time Istomin would play the piano with him. One day, Eugene arrived while Pinkie was working on the Tchaikovsky Concerto. Eugene sat down at the piano to accompany him, and he soon embarked on an analysis of the construction and harmony of the concerto which amazed the young violinist and remained engraved in his memory. What most impressed Zukerman about Istomin's musical philosophy was the demand for simplicity, sobriety and truth: "It is only when you have removed everything that is useless, superfluous, that you can present a work to the public. Exaggeration is harmful – the music is simple and beautiful by itself."
Zukerman spoke about the life and career of Istomin and Stern in these terms: "The key word for Eugene and Isaac was curiosity. It was the mainspring of their lives, at a time when one had the feeling that he could still embrace the world set, the whole universe, and that he could influence their evolution and act upon the course of events. It was a time when optimism seemed possible. They were part of the Kennedy generation."
Pinchas Zukerman lamented the fact that Eugene, at the end of his career, did not receive the recognition he deserved. He attributed this to the upheavals in the musical world from the late 1950s onwards: "The LP and stereo imposed the disc at the forefront of musical life. Transatlantic travel was by plane and transformed performers into globetrotters; the Van Cliburn phenomenon changed the musician's perception by showing that there was room for financial, political and media exploitation in classical music. Music has become a business, where brilliance and superficiality have become the key values. Some have adapted. Eugene didn't accept this, and he gradually paid the price. He wanted to follow his own path, to be honest musically and humanely, even when it went against his own interests."
Interview with Bernard Meillat in 2006
In 1966, Pinchas Zukerman participated in the Detroit Symphony summer festival in Meadow Brook, where the Istomin-Stern-Rose Trio was in residence for an entire month. They were to perform a series of concertos under Sixten Ehrling, as well as three chamber music concerts. In addition, the members of the Trio gave memorable master classes, for which they had invited their most brilliant students, Jean-Bernard Pommier, Pinchas Zukerman and Lynn Harrell! Zukerman had a lesson with Istomin on the Brahms First Violin Sonata. It was a very rewarding experience for the three young musicians, who were then between 18 and 22. They had a great time with their elders, observing rehearsals, attending concerts, and practicing beside their masters.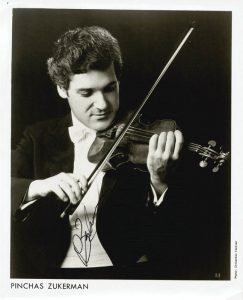 In 1975, shortly after Istomin and Marta's wedding, the Puerto Rico Festival was a grand celebration of music and friendship, bringing together the older generation (Serkin, Stern, Schneider, Rose…) and the younger (Perlman, Barenboim, Mehta…). Pinchas Zukerman played the Tchaikovsky Violin Concerto and participated in two chamber music concerts on the viola.
Istomin had only two opportunities to play under Zukerman – twice in Mozart's Concerto No. 21 in 1980 with the English Chamber Orchestra and a few years later, with the Saint Paul Chamber Orchestra.
1975, June 17. Puerto Rico. Mozart. Piano Quartet K. 478 (with Stern and Rose). Brahms. Songs Op. 91. (with Maureen Forrester). Recorded concert.
1975, June 20. Puerto Rico. Brahms, Viola Sonata Op. 120 No. 2. Piano Quartet No. 2 Op. 26 (with Stern and Rose). Recorded concert.
1980, November 11. Carnegie Hall. Mozart, Concerto No. 21. English Chamber Orchestra.
Pinchas Zukerman, in the early days of his career, plays with great chic and breathtaking virtuosity the Polonaise in D major Op. 4 by Henryk Wieniawski. At the piano, Lawrence Leighton Smith.
.
Pinchas Zukerman as a conductor…
Brahms. Symphony No. 2 in D Major, Opus 73, Adagio non troppo.  National Arts Centre Orchestra Ottawa, Pinchas Zukerman