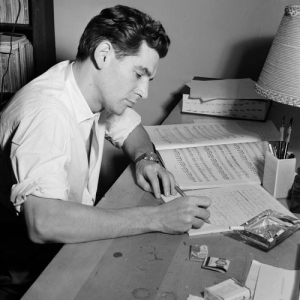 Eugene Istomin and Leonard Bernstein seemed destined to have a close ongoing musical relationship. They were very friendly when they were together at the Curtis Institute, although Bernstein was seven years older than Istomin. Once, after a Curtis student recital, Bernstein declared : "Ah, Eugene ! You're an oasis in the desert ! An oasis in the desert!" Leon Fleisher recalls in his autobiography that Bernstein once said that if he played the piano the way he did in his dreams, it would sound like Istomin. As for Istomin, he was immediately fascinated by Bernstein's genius and charism. They remained friends throughout their lives, often demonstrating mutual signs of affection and esteem for each other. Istomin stood up for Bernstein as a composer when some of his works were badly received. He played his Anniversaries many times in his recitals and Bernstein thanked him by signing his score, recalling the past and looking forward to "all what's to come."
Actually, they gave only a few concerts with the New York Philharmonic. In 1958, Bernstein's first year as full musical director, they performed the Schumann Piano Concerto. They were meant to record it, but in the end, Columbia asked Bruno Walter rather than Bernstein. In 1962, Istomin took part in the Lincoln Center opening by performing Bach's Concerto for 4 Keyboards BWV 1065 together with Gary Graffman, Leon Fleisher and William Masselos. A few weeks later, he played Brahms' Second Concerto, in a series during which Bernstein celebrated his 500th concert with the New York Philharmonic. Lastly, in 1968, under tense political circumstances, he performed in a program which was one of the major events of the season. The first part of the concert was the world premiere of Berio's Sinfonia which had been commissioned by the New York Philharmonic for its 125th anniversary, conducted by the composer himself. In the second part, Istomin was to perform the Beethoven Fourth Piano Concerto with Bernstein conducting. It was a very difficult moment for him. When he walked on stage, there were some boos and hisses from the audience. Istomin was offended, even though he knew that they were not aimed at the musician, but at the political activist.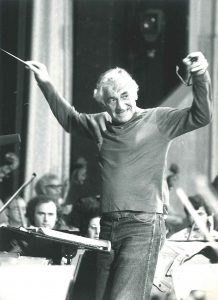 As Istomin was currently head of the Arts and Letters Committee for Humphrey, the hostile reception could have come either from staunch Republicans or equally, from Democrats who were opposed to Humphrey. Many intellectuals reproached Humphrey for, as vice-president, not having differentiated from Johnson's politics in Vietnam and, as a candidate, for having been late in proclaiming his will to make peace as soon as possible. Bernstein had already refused to join the Committee. After a rehearsal, Istomin asked Bernstein again, since he  never dreamed that Bernstein would prefer Nixon over Humphrey! Bernstein answered that he would not take sides or vote. He thought that Humphrey was certainly a valuable person, but that the American people needed to be "cauterized" by Nixon in order to find the road back to idealism. Istomin was staggered. In music as well, the two friends had trouble understanding each other. Bernstein conducted the Andante of the Beethoven Fourth Concerto so slowly that Istomin's performance was ruined.
A few months later, Bernstein resigned as musical director of the New York Philharmonic and never again accepted a fixed position. As a guest conductor, opportunities to invite Istomin were quite difficult to find. Despite this, Bernstein told Istomin several times that he most definitely wanted to do a Mozart concerto with him, but nothing happened.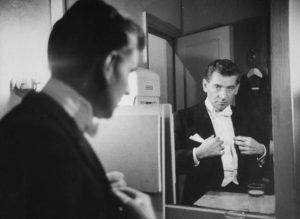 It is difficult to determine the reasons why Bernstein did not invite Istomin to perform more often with the New York Philharmonic. Bernstein may have been hurt that Istomin agreed to record the Schumann Concerto with Bruno Walter rather than with him. It did not prevent them from maintaining very warm relations until Bernstein's death, which prompted Istomin to say: "Actually I could not imagine him getting old!"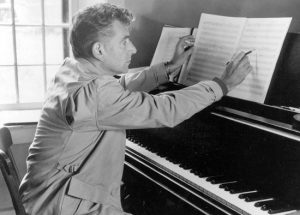 In an interview with John Gruen for The New York Times in 1971, Istomin spoke about his profound admiration for Bernstein as a composer, after the premiere of Mass for the inauguration of the Kennedy Center was badly received: "It has pained me to read so much adverse criticism of his Mass, which I recently heard at Kennedy Center. I think it's Bernstein's magnum opus. To me there isn't an ounce of phoniness in it. You have his soul and beliefs and all his fantastic talent on a silver platter in this piece. Yes, it's popular. No, it's not eclectic. It's pure Bernstein. Love him, love the piece. I do. There is room in my world for Stravinsky, Nono and Bernstein. I'm tired of seeing one of the century's greatest talents picked on and poked and maligned. Let's enjoy him while we've got him."
1958, October 23, 25 & 27. Carnegie Hall. Schumann, Concerto. New York Philharmonic.
1962, September 26. Avery Fisher Hall. Bach, Concerto for 4 Keyboards BWV 1065 (with Leon Fleisher, Gary Graffman and William Masselos). New York Philharmonic.
1962, October 25, 26, 27 & 28. Avery Fisher Hall. Brahms, Concerto No. 2. New York Philharmonic.
1968, October 10, 11, 12 & 14. Avery Fisher Hall. Beethoven, Concerto No. 4. New York Philharmonic. Recorded concert.
This trailer gives an overview of Mass by Leonard Bernstein, a still underrated masterpiece. The images come from the Vienna production in 1973, with the Yale Symphony Orchestra conducted by John Mauceri.