In 2002, as part of the Great Conversations in Music filmed for the Library of Congress, Eugene Istomin interviewed Mstislav Rostropovich. The topics covered were the reciprocal influences of Russian and American music, the globalization of music, the birth of his vocation as a conductor, the essential quality of a conductor and his relationships with Prokofiev and Shostakovich.
Here are the most significant passages from Rostropovich's answers.
"I am very proud that Russia had such an influence on American musical life, especially after the Revolution, when many Russian musicians came to America and trained so many young American talents. I called Aaron Copland my American daddy, and my American brother was Leonard Bernstein. Not only was Bernstein a great musician, but he was a great friend. He gave me the cufflinks that Koussevitsky had given him. Koussevitsky meant so much to me!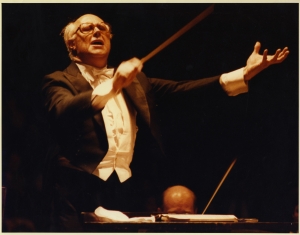 My father was a cellist, my mother a pianist. I was born in Baku and was always immersed in music. In the summer vacations, my father played in orchestras that gave outdoor concerts and I could attend all the rehearsals, sitting inside the orchestra. My first dream was to be a conductor. But when I was eight years old, my father said to me: 'Slava, you must study the cello. Then you may become a conductor, but first you have to make a career as a performer, it's safer. And then it will help you in your work as a conductor.' So I had to keep my dream to myself. I did not feel that I had a special talent for conducting, but I wanted to deal with the limitless orchestra repertoire, to 'touch' all this music, to participate in it. I made my debut as a conductor in 1960, with the Tchaikovsky Third Suite and the Prokofiev Fifth Symphony. My experience as a cellist did serve me well, as I have played under the direction of most of the great conductors of our time. One day, I asked Erich Leinsdorf: 'How should I give the first beat of the Shostakovich Fifth Symphony?' He replied: 'Slava, how do you start the first phrase of Dvorak's Cello Concerto?' So I showed it to him. He said to me: 'It's the same thing, it's the same gesture!'.
Today all the cultures are mixing together in only one world culture. A hundred years ago in Russia, people lived in their villages and the circle of life did not exceed fifty miles, a day on horseback! Today, with the Concorde, I arrive in New York two hours before the time I left! As a joke, I ask Galina: 'If I die in Paris, hurry up and put me in a coffin and send me to America by Concord, so I'll have time to say goodbye to my American friends!'
In 1947, when I entered my first international competition in Prague, I saw cellists from all over the world and they played very differently, instrumentally and musically, each in line with their national school! Now, of course, we have unified cello schools, piano schools, everything. The world is like a big condominium, we are all neighbors.
Why did Prokofiev make the mistake of coming back to the Soviet Union? I spent five summers in a row in Prokofiev's dacha, from early spring to late autumn. One day, I came to see him in his dacha and he told me: 'I have no money for breakfast!' So I asked him very directly: 'Why did you make the mistake of coming back?' And he replied: 'It's not a mistake, I am a composer, and it's crucial for me to create in my own country.' It is so difficult to understand genius.
I met Shostakovich in 1943, when I entered his class. We became great friends – we drank vodka together, made jokes. Of course I knew that he was a genius, but it was only when he died that I really understood the greatness of his genius. I also realized that if he had been happy in his life, if there hadn't been so many horrible campaigns against him, maybe he wouldn't have composed such deep, tragic music, and he wouldn't have been such a great composer. It is these kinds of battles that build the greatness of a genius. There are many such examples in all the arts.
"What is a genius conductor? It's someone who doesn't just lead instrumentalists, but musicians. A genius conductor does not need to make any gesture to communicate the emotion of the music to be performed. For example, for the second movement of the Tchaikovsky Fifth Symphony, I give a very unclear sign. It's just the green light for telling the musicians that they can start when they like, but together- and it works! It's miraculous, there's a kind of intuitive interaction between the musicians, and the pianissimo that emerges is miraculous."
This conversation can be downloaded on the Library of Congress website: www.loc.gov/item/ihas.200031109
Mtislav Rostropovich conducts the Pathétique Symphony at the Bolshoi Theatre in 1993 for the 100th anniversary of Tchailovsky's death, with the Russian National Orchestra..